Renée Rockoff
a fragile case : monoprint / installation
October 15 – 16, 2016
A Fragile Case is an installation of assemblages that reflect on life's temporality, the nature of time and memory. The work grew out of an intuitive process combining printed matter, family heirlooms, architectural details, found objects and natural materials. They are placed in a contextualized space, arranged in a room, the forms lit with spotlights; the viewer engaged intimately one-on-one, vignette-to-vignette.
Each object has its own history, its own integrity; when joined together disparate things interrelate. Elements combine and take on new life generating a magnetic field or energy. I call this process "visual poetics". It is a form of alchemy, creating an identity that reaches beyond the parts.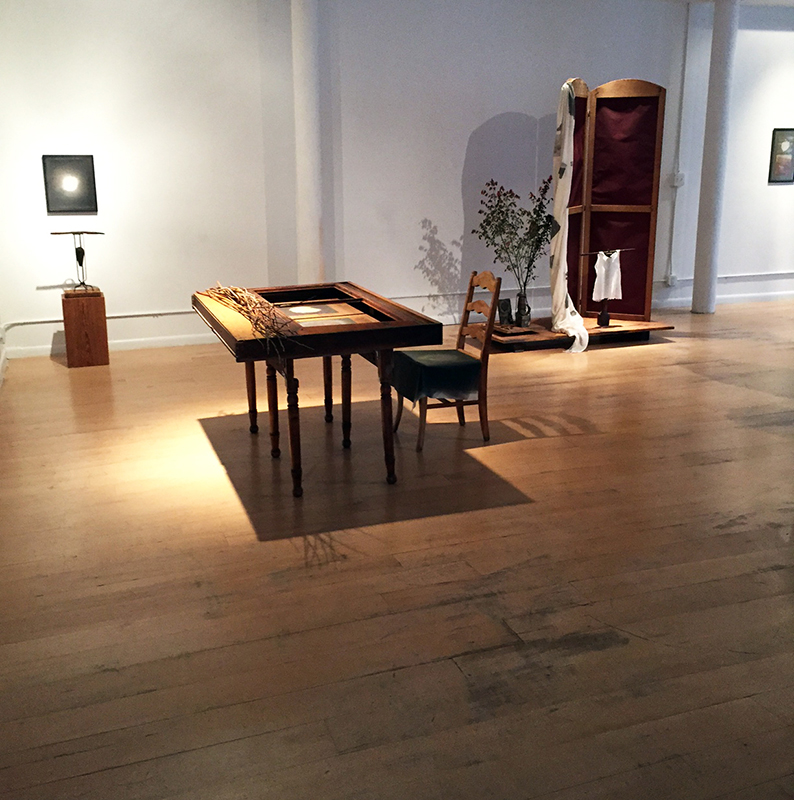 The work is non-narrative and yet hints of narrative thread through. There is a baby's dress from the 1940s. When I look at its gauzy dotted-Swiss fabric and exquisite detail I am struck by how it embodies a mother's hopes and dreams. For me the elements are loaded with personal stories, but the pieces are ultimately symbols capable of resonating with an individual's own thoughts, their own experience.
I am intrigued by the stories we tell ourselves. The way we build a sense of self, replete with mysteries for which there are no cognitive memories. We are filled with untold family history, ancestors we will never know. Broken histories form a past we simultaneously own and can only guess at. This work is an evocation, and as any good fiction it is filled with traces of truth.
Renée Rockoff, 2016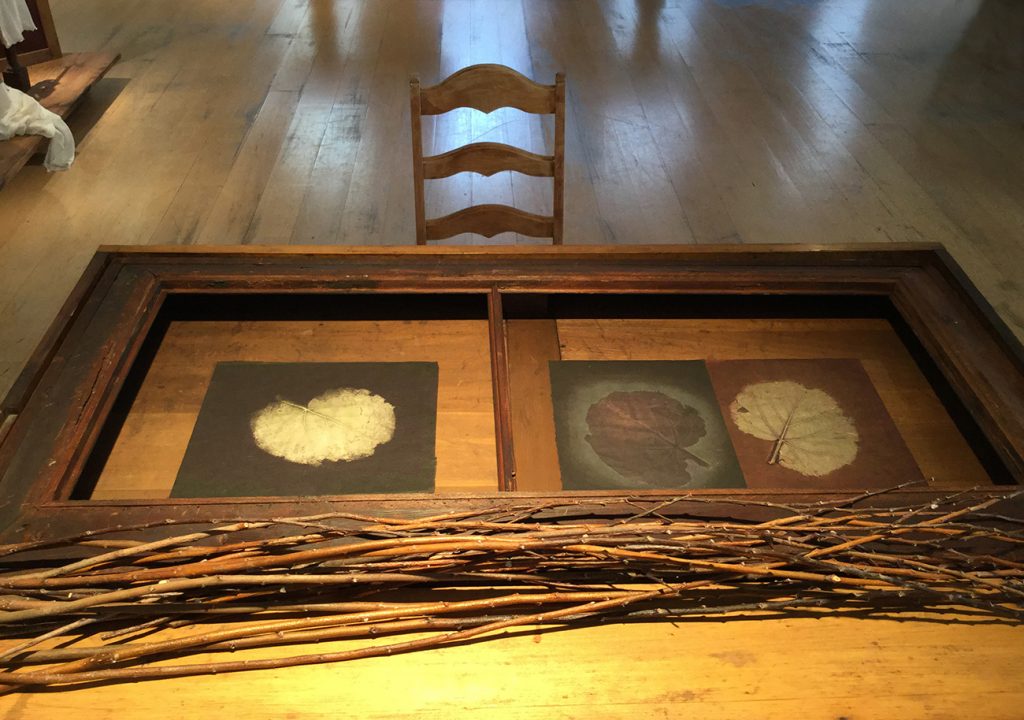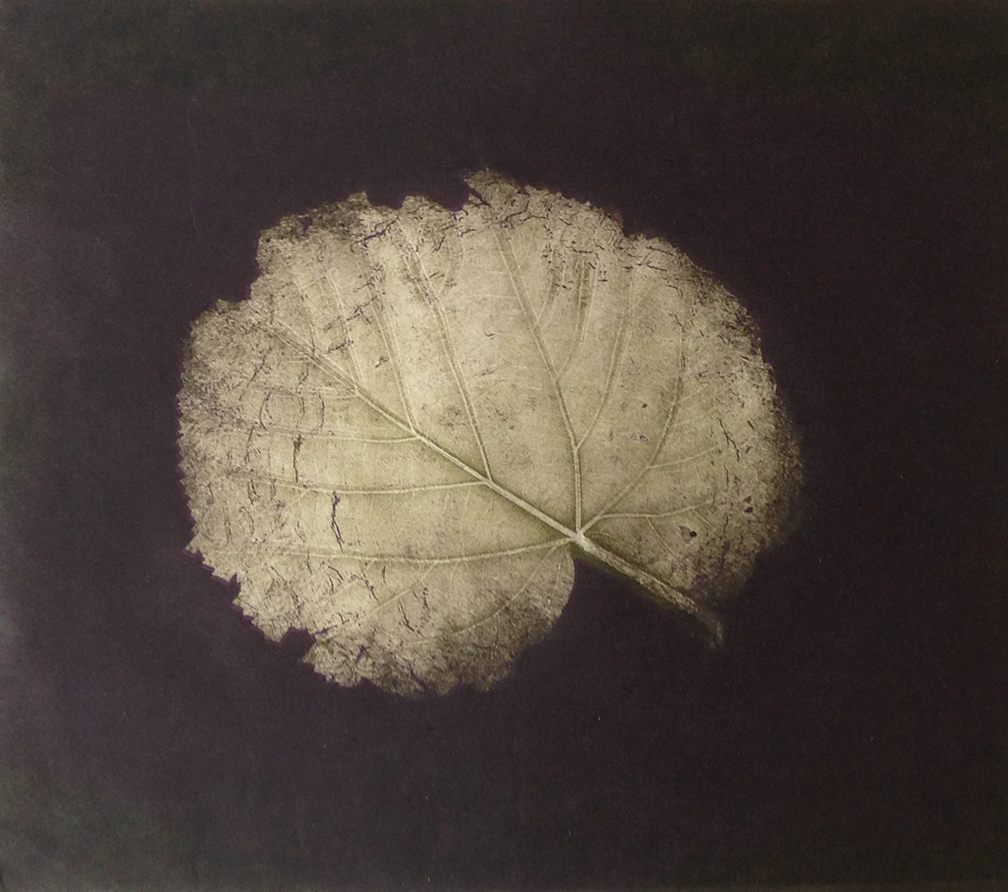 The first piece upon entering is a desk with a chair; the image is intimate and inviting. As you approach you see a leaf print lying on the seat of the chair and realize you cannot sit down. On the desk are bare pussy willow branches. They look almost like brambles. The top of the desk is the back of an old mirror frame. It is open and you peer in to find leaf prints, one that emits so much light it glows, another surrounded by an aura of soft light, it seems to float as on a branch in moonlight or one that passes on a dark stream.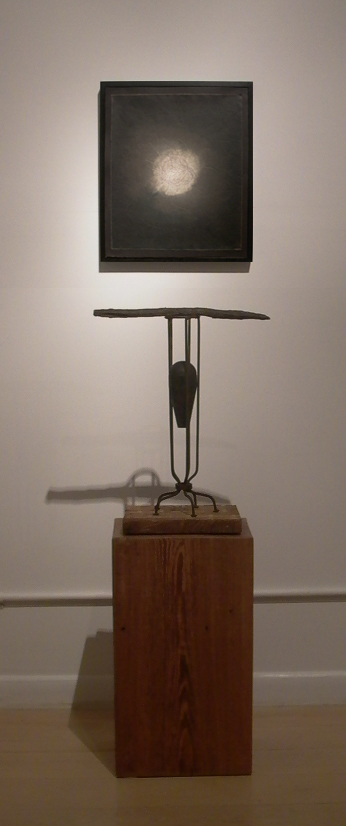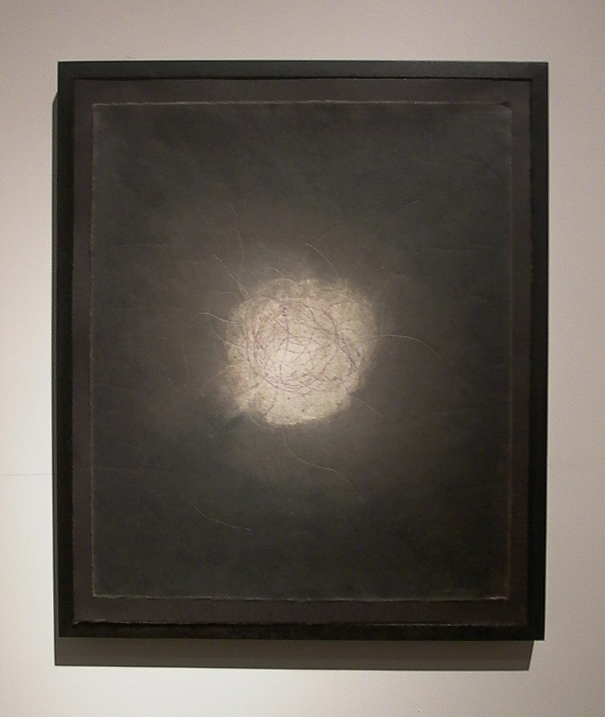 A plinth stands in the corner; it is a portion of an antique wooden joist. On top of that sits another wooden platform and a metal sculpture. Suspended inside the metal cage-like form is a weight shaped like an oar handle. Across the top is a rusted metal spike, a World War II relic from a deserted bunker. On the wall above the sculpture is a framed monoprint with a darkened edge and glowing white center. Twisted faintly red lines crisscross and turn in the central part of the image, the lines reach out embossing the lighter space before it fades into darkness. The light and dark draw you inward as though peering into deep space. For me the sculpture is an emblem of time, the print a leaf that became an image of the cosmos. An art student who saw the work said it felt to her to be an image of the soul.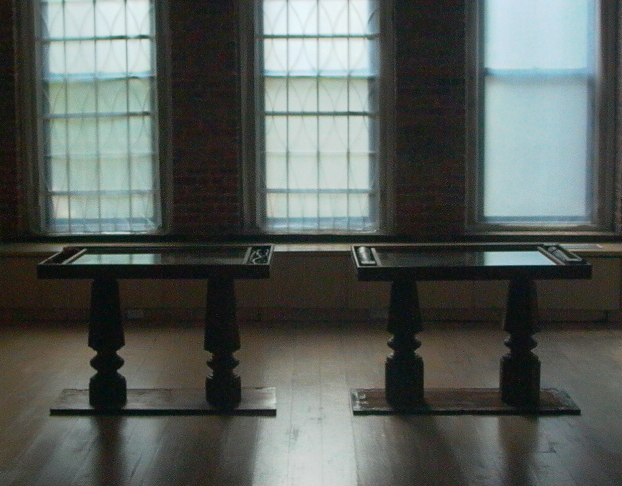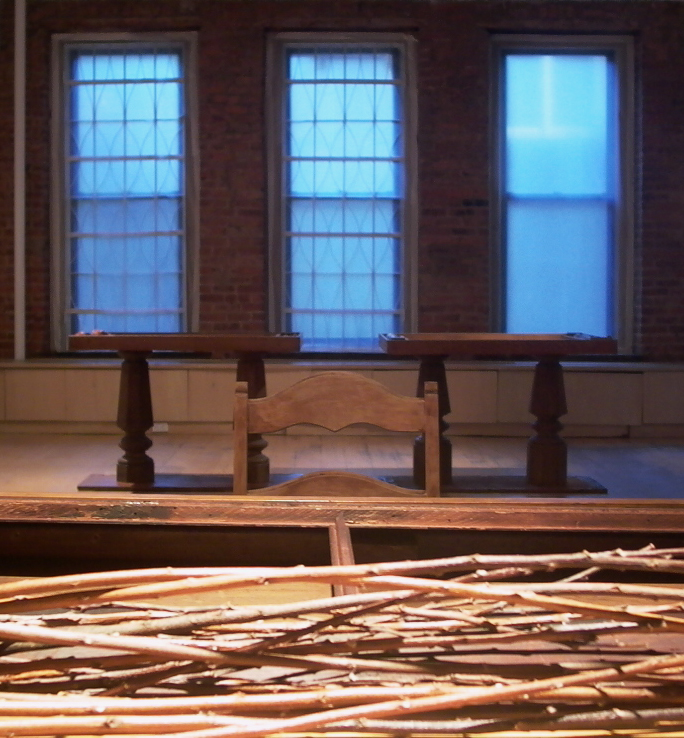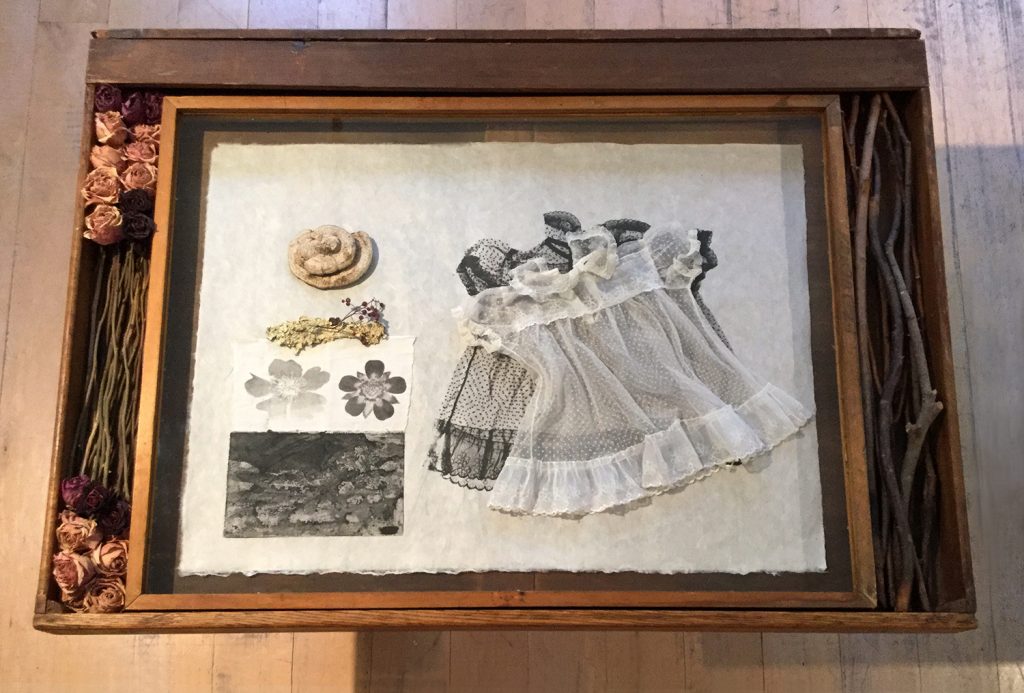 Each piece is raised off the floor on a platform, occupying its own space within the room. Some were vitrines, table high cases, assemblages of collaged materials, old and fragile, they looked like they had always been together. They were actually composed of disparate fragments: a colonnade of newel posts, massive nineteenth century hand-turned wooden posts that stood on the landing of each floor of our building. They are part of my history, and New York history and they formed the legs of two of the table cases. The cases themselves were old print drawers, wooden flat files containing old wooden frames with glass that covered parts of the cases. The frames housed monoprints and other elements. One had an antique baby dress arranged on top of a silkscreen print of the same dress on hand-made paper. The arrangement of the dress took on a quality of movement and looked as if it was dancing. There were two other prints alongside it, a transfer print of flowers on cloth and a textured sumi ink print. Above the little prints were a piece of bark covered in lichen and a small twig with red berries. Above that was a polypore fungus that was shaped in a shell-like spiral. On either side of the framed section were open channels. One side had dried roses and the other side twigs. The central framed image with side panels took on the form of an altar box.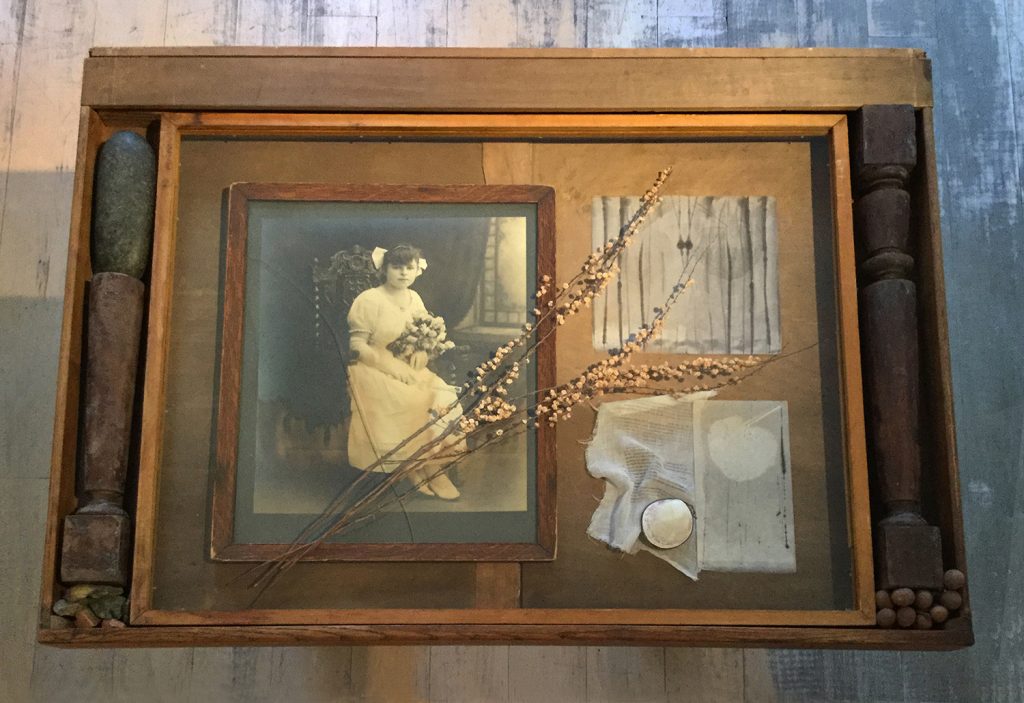 The second set of newel posts held a case with an old framed silver gelatin photograph of a teenage girl or young woman. She sits regally on a throne-like chair by a paneled window; dressed all in white she is holding flowers and a scroll of paper. The glass on the photograph is broken. On top of the photograph is a spray of small and delicate pale pink flowers. Also in the case are three monoprints, a transfer print of words on cloth that are not quite readable, a leaf print with drips of black ink and another print with bands that could suggest a forest. There is an oyster shell locket and in the uncovered channel on either side of the framed glass are baluster posts that once held a stair railing. One is supported on dried longan fruit, the other by stones gathered at each zone of strata inside the Grand Canyon. Above the broken baluster is an oval stone that could be an ancient tool or primitive carving.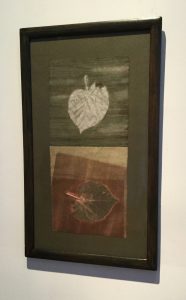 Leaves were used in a series of multi-layered monoprints. The images possess a quality of pentimento as traces of previous layers are revealed within the densely printed surfaces. As a result of numerous printings the leaves broke down and the process of aging was exposed. Time and decay became physical elements of the work.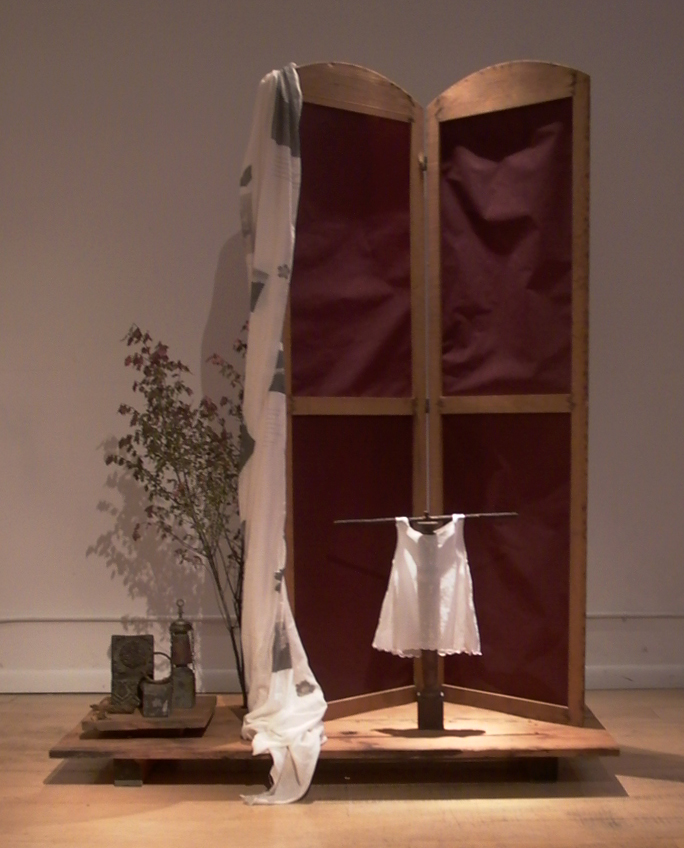 Song of Innocence
The central platform has a tall screen with richly printed-paper panels in deep garnet red. The screen divides the space inside and outside and frames a small figure of a child. The slip, a delicately embroidered dress, is hung on a rusted spike balanced horizontally on a baluster. The way the light passes through the fabric illuminates the inner structure. The dress, which moves in the room's air currents, is animated and seems to possess a presence. One side of the screen is hung with a long gauze cloth with transfer prints of poems, small stories and images. Its cloth is wound in on itself, the printed segments not easily read or viewed. It is a shroud or curtain, perhaps a prayer shawl bearing fragments of a personal history. Behind the screen/curtain a small tree rises out of the platform. Its autumn leaves are tinged with garnet matching the screen's paper. A smaller raised platform holds a collection of small sculptural objects that sit beside the little tree like a shrine or offering.