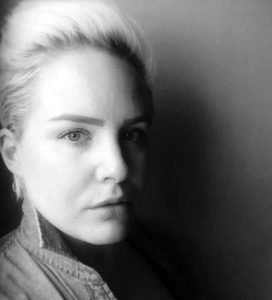 Co Producer / Consulting Producer
Alex Chowaniec is a painter, filmmaker and new media artist. She is an MFA graduate from the San Francisco Art Institute and received her BFA Honors in Painting from Queen's University in Canada. Her work has been exhibited internationally, including at the Barbican Centre in London, Art Toronto, Galerie d'Art Jean-Claude Bergeron and Wall Space Gallery in Canada, The Lab in San Francisco and A.I.R Gallery in New York. She is the recipient of the Irene Pijoan Memorial Painting Award, the Helen Nininger Memorial Scholarship in Fine Art and is a Joan Mitchell Foundation, Headlands Centre for the Arts and SECA Award (SFMOMA) nominee.
Chowaniec is a Producer of Lynn Hersman Leeson's documentary, Women Art Revolution (2010), co-author of the W.A.R. graphic novel (with legendary Zap Comix artist Spain Rodriguez), and a 2011 Sundance New Frontier Artist collaborator with the new media installation, RAW/WAR.