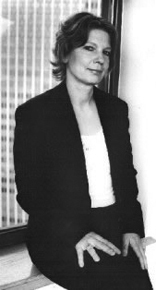 Executive Creative Director
Carey Lovelace's award-winning plays have been produced at the Edinburgh Fringe Festival, the New York-based 59E59 Theatres, Ensemble Studio Theatre, Bay Street Theatre, the Samuel French One-Act Festival, and REDCAT Theater in Los Angeles. Winner of the Maxim Mazundar Mazumdar One-Act Play Competition, she is a member of the BMI Music Theatre Workshop and the Actor's Studio Playwrights/Directors Workshop. Her one-woman play, The Stormy Waters, The Long Way Home, was included in The Best Short American Short Plays by Applause Books.
Lovelace, also an art critic and independent curator, was Co-Commissioner of the U.S. Pavilion of the 2013 Venice Biennale. She was an Andrew and Marian Heiskell Visiting Critic at the American Academy of Rome and for over two decades has written for publications, including Artforum, Art in America, Flash Art, Ms., the International Herald Tribune, and The New York Times. For three years, she was co-president of the International Association of Art Critics, U.S. Chapter, (AICA-USA). At 435 members, it is the nation's largest organization of its kind.
She has a an MFA in playwrighting from the Actor's Studio program at the New School, a BFA in music composition from California Institute of the Arts, and is a member of the BMI Music Theatre Workshop and the Playwright/Director's Workshop at The Actors Studio.